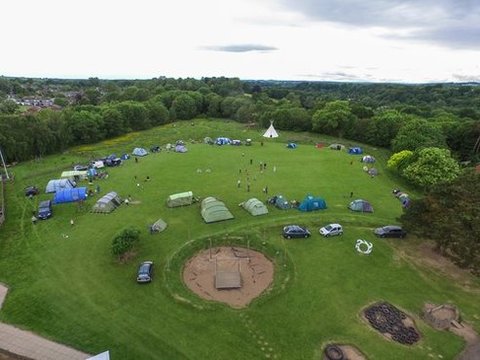 Abbeyfields Forest School hosted a fantastic weekend residential for parents and their children to experience this unique environment at its best.
Over 130 people pitched 39 tents and set up 2 campervans to turn the forest from daytime learning centre to night time family camp site!
Everyone enjoyed a host of Forest School favourite activities from fairy clothes making, Hapa Zome art and natural creature making to den building, welly walloping and flag making. A tasty meal of hot dogs, burgers and vegetable kebabs cooked on the open fire was accompanied by theatrical story telling and live music. After a toasted marshmallow or twelve, the evening ended in the early hours of the morning with children happily exploring the wildlife of the woods and parents relaxing while watching the sun set over the tipi.
The next day, after a bacon and sausage sandwich, everyone enjoyed the beautiful summer weather at Athy's Dene whilst river dipping, bird watching and creepy crawly catching before  heading back at midday to take down the camp.
Abbeyfields Forest School residential will be back next year!
Comments from parents:
'Can I just say a massive thank you once again for an absolutely fantastic Forest School Camp. It was honestly one of the best things we have done as a family and I feel incredibly lucky that my children are able to enjoy things like the camp last night as well as the Forest School through the year.'
'I just wanted to write to say what an absolutely fantastic time we all had on Friday night at the camping night. The Pearson family did an outstanding job. Could you please pass on my thanks for an excellent evening and also for the trip to Athy's Dean on Saturday morning. Our children are so lucky to have such a wonderful school.'
'We had the most fantastic time, it was so well organised from start to finish with a laid back relaxed atmosphere! We hope it will become a regular event as we would certainly do it again. We are so lucky to have this fabulous facility within our great school.'