Intent
At Abbeyfields we want all children to learn to read as quickly as possible, freeing them to read to learn. We would like them to develop a love of reading as this means they will continue to read for pleasure and for purpose throughout their school journey and into adult life. Children also need to be able to communicate successfully, whether speaking and listening, demonstrating their comprehension of factual and fictional texts, writing in different styles and for different purposes, or using modern technologies to develop their digital literacy skills. English is at the core of all learning and interaction, so we devote a large proportion of curriculum time, particularly in the early years of school, to ensuring children learn to read effectively.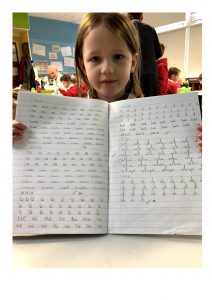 Implementation 
What do our English lessons look like?
There are various strands to English teaching, including oracy, reading, writing, handwriting, spelling, grammar and punctuation. These will be addressed every week in English lessons. In Early Years and Key Stage One our English lessons are largely based on responding to quality texts, particularly picture books. Teachers share a book and then focus on different responses with the children, such as prediction, retelling and innovating. In Key Stage Two children are more able to read texts themselves or within guided sessions, to respond in writing to show their comprehension, and to use their reading materials as a stimulus for their own writing.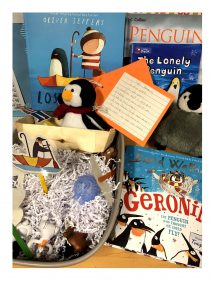 Children are taught listening skills, sounds discrimination and phonics from Nursery, and this continues as a daily Read Write Inc session in Reception. In Key Stage One we start the morning with a Read Write Inc session which is additional to the main English hour. Read Write Inc and reading interventions continue in Key Stage Two if needed.
Teachers also identify a daily session when they will read aloud to the class. This may be during the English lesson as a stimulus to learning, or at another time of day where a book is read to enhance learning in another curriculum area or purely for pleasure.
How do we teach reading at Abbeyfields? 
We teach the recognition of letter shapes, using the systematic Read Write Inc approach, introducing the first group of letters that can be manipulated to blend a large number of 3 letter cvc words (consonant – vowel – consonant.) Gradually further sounds are added so that words with intial and final consonant clusters can be read, and digraphs and trigraphs (sounds made be combining two or three letters eg sh, oo or igh) are recognised and blended into words. Handwriting formation is taught from the very first letter, and children learn to spell and to write sentences using the words they can read. The Read Write Inc programme is used from the first full week in Reception. Children who have attended our Nursery will also have begun to recognise single letters and will have engaged in a lot of pre-literacy activities such as sound awareness and fine motor skills to give them the best possible start to their learning.
Children are taught the mechanics of decoding, and also how to tackle "tricky words" which are non-decodable, through their Read Write Inc lessons each day. Children work in small groups with teaching staff to ensure they are focusing on the right instructional level to help them make best progress. They use the sounds and words learnt to remember and record short sentences, to edit sentences and develop proof reading. Children also learn weekly spellings which support their stage of phonics and whole word acquisition.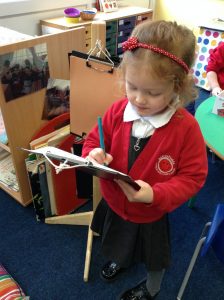 One of the most important areas in which parents can help accelerate a child's progress with individual attention is in reading. For this reason we hold meetings for parents to demonstrate how to pronounce phonics, to model a typical lesson for their child, and to encourage them to foster a love of reading at home. We teach wider reading skills such as comprehension through wider English lessons, with sessions focussing on developing empathy with characters, inference and deduction, or "reading between the lines."
All children, from the first few weeks in Reception Class, will have one or more allocated reading books to take home each week from either a conventional reading scheme, a graded early reader or a fiction or non-fiction book at their interest and ability level.  We ask parents to support their children by reading the books together at home, and also practising any flash cards or reading games that are sent home to add to their learning. Children also have the opportunity to take home a shared reading book from the class library, and to read other materials such as instructions or information texts throughout their lessons each day. Children will read individually with an adult at school at least once weekly when they are beginning to read, with lots of additional opportunities to meet words at the correct level throughout their learning week. Older children continue to read occasionally to an adult and discuss their reading materials. Some children throughout school will read more frequently with an adult in order to give them the necessary support.
We promote the importance of reading through several initiatives throughout the year, such as an annual picture or photo competition linked to reading books, visits from Scholastic Book Fairs and the Book People Big Bus, visits and talks from authors, World Book day initiatives, and parents and other volunteers coming in to read to or with our pupils. We invite children to donate a book to their class library to celebrate their birthday, and have a stock of books for this purpose so that every child is able to take part.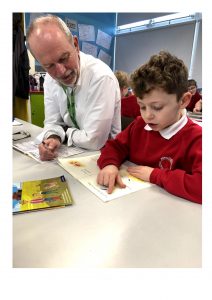 Recent developments in English teaching:
In 2018-19 we worked with other first schools within the Morpeth partnership to moderate assessments and share good practice in writing. We worked with our School Improvement partner and English advisor to examine our English lesson planning, and we also restocked our reading scheme books. We ensured that we provide good quality, relevant home reading materials for our children, and particularly reading materials for beginning readers that are well matched to their progress in acquiring phonic decoding skills.
In 2019-20 we piloted our own "reading spine" which has texts in different genres eg traditional tales, modern classics, poetry and factual materials, carefully chosen to match to the interests and maturity of each year group, and to build on prior learning as the children progress throughout the school. Fact and fiction books are usually the core stimulus of different cross curricular themes, and also promote opportunities for children developing vocabulary and sentence structure when communicating verbally and in written forms. We have provided good quality materials for teachers to use in class, ensuring that these excite and educate as well as representing minority groups and all sections of society in positive roles. We appointed an additional staff member in Key Stage One as "Reading champion" to ensure we could meet the needs of all the children for small group phonics and reading learning at the most appropriate levels, and that the lowest 20% of readers could have additional individual reading sessions each week. We necessarily developed our use of online learning with links to e-books for home reading and use of our online learning platform to set reading comprehension and written tasks for home schooling during school closures as well as weekly homework.
In 2020-21 we have adapted our class organisation and teaching focus to allow for the "Recovery Curriculum" as the majority of children have entered their new year groups at lower levels than we would usually expect, due to the lost learning time, which is a huge percentage of schooling for our younger learners. Each class teacher works with a teaching assistant to meet the diverse needs of every class. Long term plans have been adapted, to ensure that gaps from the previous year's planned learning are addressed, and particularly in Key Stage One, the impact on reading and writing means that the focus is more on early acquisition of phonics, handwriting and spelling, which we hope will pay dividends later in the year. We are continuing staff's professional development with a Read Write Inc Development day for key staff, in house training and access to Read Write Inc training resources for all staff.
Impact
All of our children love sharing a story with an adult, older pupil or peer. They develop their own preferences regarding subject matter, author or illustrator. Our children's attainments at end of Foundation Stage and Year One Phonics Screening Check are broadly in line with National Expectations, and they make value added progress to attain well in the Key Stage One SATs. Reading and Writing in Lower Key Stage Two is at or above National Expectations for the majority of pupils, who go on to achieve above average results in the Key Stage Two SATs at local middle schools. We have been successful with areas that are typically difficult for some other schools, notably motivating boys to read and write.
We are determined to raise our Phonics Screening check performance as well as to support the minority of pupils who make a slower start with phonics and reading, so we adjust our curriculum and devote more time and resources to all aspects of reading, for example with the appointment of a dedicated "Reading Champion" teaching assistant role.